Reading Time:
8
minutes
What exactly is the inner beauty concept-
"You are not Born to Impress, You are Born to embrace, the real You"
The Ugly Duckling" is an age-old story with the moral lesson for people to accept themselves for who they truly are in order to become who they are born to be. The lessons to be learned from this story-
The absolute acceptance of your true self is the best way to nurture and be the best version of you
Do not judge your abilities by other's opinions
Do not try to fit in, when you are born to stand out
Do not beg for attention, be your own role model
People criticize things, they do not understand.
The best things in life come with Patience
"When you stop copying others and start working on who you are, you become the best version of yourself"
Do not judge your abilities by other's opinions-
The inner beauty concept starts with "You". What you think about yourself is more important than what others think about you.
The biggest mistake we do in our life is we give importance to others' opinions of our existence. The true inner beauty concept is to feel good about yourself with or without validation from others.
Do not try to fit in, when you are born to stand out
What made the duckling sad was, she tried to fit into the group, she was surrounded with. Which is what we all do at some point in our life.
Our surroundings make a huge impact on our life. Where you are born, what kind of people are influencing your life. What has been taught to you every day? All these things impact our thought processes and eventually build our personalities.
The true inner beauty concept here trying to tell us- if you try to be like others in order to be accepted- " You will lose the Essence of your life". Everything on earth has a purpose. When you do not accept what you exactly are, you get deviated from your life's purpose.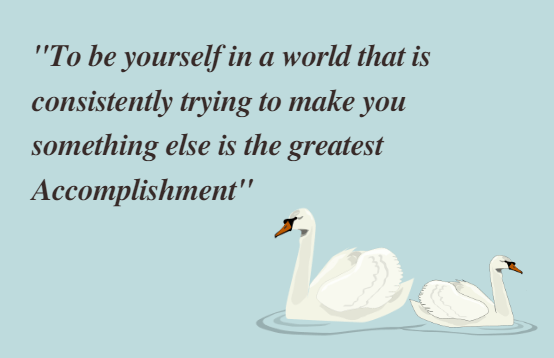 Do not beg for attention, be your own role model
Life begins when you come out of your mother's womb. But You Start living when you find out, Why you are Borne. You are certainly not borne to impress others or follow what others want you to do. You are born to be "YOU".
The duckling was sad, not because of who she was but because she lost her individuality to fit into a tribe, who are constantly criticizing her.
The worse thing you could do to yourself is to lose yourself in the process to get others' acceptance. The inner beauty concept says-Instead of trying to fit in, try to make your own individuality shine. you might become a role model to others, who are going through the same kind of pain.
People criticize the thing, they do not understand
The duckling was criticized because of her appearance as her tribe was unaware of swans. The important fact is people most often find it hard to accept something which they do not understand or rationalize.
Whether it is the duckling, Mowgli, or Tarzan, they all face discrimination and criticism. But none of that criticism was rational, it's rather a lack of knowledge or some kind of jealousy that provoke people to not accept something they do not understand.
The inner beauty concept says- the best way to deal with such irrational criticism is to walk away, stay away, and not let others belittle you by any means.
The best things in life come with Patience–
One should always stay calm and develop oneself further. Everyone deals with tough times in life. The challenges are supposed to make you stronger not weaker.
Having Patience will improve your ability to accept setbacks and enjoy life much more. "Patience is not the ability to wait, but the ability to keep a good attitude while waiting.
The Moment the duckling accepts the reality, that she is different from others, she just opens a new path to finding her identity-Practice accepting her current circumstances. That new path leads her to a place, where she finds her true identity as a beautiful swan.
The gist of it is, having patience through a tough time and accepting your circumstances as stepping stones for a better outcome will lead you to greater success.
The inner beauty concept is-Don't let the world belittle your true potential. Take the leap of Faith and embrace the pain. Time and Perseverance will lead you to a bigger and better future.
Why settle as a Duck, when you are born to be a Swan
My write-up never ends without some relevant book suggestions, so here are a few books that will help you relate to this concept.
This book is a great read for youngsters and their parents. This book narrates the struggles and dilemmas youngsters face in their lives these days and how to overcome them.
It provides a fresh interesting perspective on new-age parenting. Dr. Deepak has penned down his life experiences by providing doable solutions to the problems, and definitely not in a boring motivational way.
I recommend this fictional story with great perspective to everyone, who is looking for a fresh outlook to tackle their mundane life, which is otherwise hard to handle with conventional concepts.
Give an edge to your life by enhancing your knowledge of the inner beauty concept.
The Courage To Be Disliked: How to free yourself, change your life and achieve real happiness by Ichiro Kishimi and Fumitake Koga
This book will help you in understanding how to use twentieth-century psychological theory to find true happiness.
It's the philosophy that is simplified and profoundly explained in this book, which is allowing us to be courageous to embrace change, and ignore the limitations that we and those around us put into our minds.
the whole book is a dialogue between two people – which felt a little awkward and labored at first.
To understand the true inner beauty concept, there are lots of interesting psychological arguments and opportunities to delve into your own attitude towards life.
This will give another perspective to make you understand the inner beauty concept. Definitely recommend reading it!
If you are going through hard times in life, lost between failures and indecision, or struggling with self-acceptance, this is your holy guide to life.
This book is a great resource for girls, who are facing professional challenges, constant gender discrimination, causal approach to their opinions, or workplace harassment.
This book could help in understanding the inner beauty concept by building confidence, time management, and great negotiation skills. It offers dozens of doable strategies for everyday workplace challenges.
The writer was editor-in-chief of one of the world's most reputed magazines Cosmopolitan. She used all her experience and wisdom to write about what inspires women to own their excellence, whether to break the rules (or make their own).
Ask for the money and opportunities they deserve, and refuse to apologize for who they are and what they want in life. Take smart risks, be fearless and never hesitate to ask what you deserve. An easy read with excellent examples to refer.
It is always said, if you think you can do it, then you definitely can. This book will make you understand the inner beauty concept by teaching you how to visualize, what you are wanting in your life.
The techniques mentioned in this book are very practical and useful.
By giving shape to what you are thinking in your mind, make your determination even stronger to achieve it.
The affirmations given in this book are what make it a treasure. practicing the techniques and affirmations daily will help you achieve positive changes in your life. The true inner beauty concept lies in strengthening your core.
The Confidence Gap: A Guide to Overcoming Fear and Self-Doubt by Russ Harris
The confidence Gap It's that place we get stuck when fear gets in the way of our dreams and ambitions.
If you feel like a lack of confidence is holding you back from trying a new thing, or Do you feel like you are not ready before you go after your goals, or if you are feeling stuck in life due to fear and anxiety…
Whatever it is that's that is impacting your self-confidence, this book will help you repair that gap between procrastination and taking action. This book has mentioned the technique of "ACT"- which will be a really refreshing approach to building up your confidence.
A- Accept your thoughts and feelings
C- Chose valued direction
T- Take action mindfully
Counting Hope: From Conflict to Confidence by Hope Mueller
This emotional journey of Hope will definitely give another perspective to see the inner beauty concept, who manages addiction, and abuse, and how to find an escape through all these.
How she overcomes addiction, and domestic violence and makes her way through the darkest period of her life to a brighter and more successful future.
This book is a walk through the author's emotional ride of discovery to how our younger years impact our future. The Author manages to fuel her drive and goal-oriented attitude to uncover her self-worth is what makes this book worth reading.
Hope this write-up gave you a fresh perspective and understanding of the true inner beauty concept. That it is beyond looks.
Inner beauty concept-
It is not your appearance but how you feel about yourself
It is not what others say about you but what you think about yourself
It is not how much attention you are getting but how you impact the people around you
It is not where you are but where you want to be and what you want to achieve.
It is not how you are perceived but how confident you are in your abilities.
Looks can capture people's attention but inner beauty captures their hearts. Treasure something that will refine with age not degrades like external beauty.
My perception of the inner beauty concept is not about getting attention or being accepted. It actually starts within yourself.
In reality, we subconsciously project a personality, attitude, behavior, and action as per our belief system. So It is very important that we understand each of these points. Understanding the true inner beauty concept will help develop you into the best version of yourself.
Thank you for reading it- Constructive feedbacks are most welcome. If you have any suggestions for our blog, please feel free to drop an email or comment below.
Thank you